Pride March & Rally
by Michael Mahler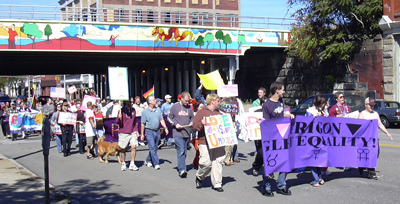 Marching down State Street during October 3 March and Rally
About 120 people showed up for the Erie Pride March/Rally on Sunday, October 3. About 100 met on the steps of the Erie County Courthouse for the Family Portrait. The first ever Family Portrait was taken at that location in October 1995. All 3 local TV news stations had coverage of the March and Rally. The Erie Times News also had a front page story the next day about the Rally. Among the chants that marchers used while walking up State Street were: "What do we want? Equal Rights! When do we want them? Right now!", as well as other chants opposing George W. Bush being elected as President. When the March passed by Kerry/Edwards Headquarters at 10th and State, staff stepped out to greet the marchers.
Speaking at the Rally held at the Village Supper Club were Dr. Steve Porter, Democratic Party candidate for US Congress; Tim Dahle, who spoke movingly of becoming an activist after having been repeatedly harassed/assaulted while a high school student in Titusville and having successfully sued the school district for $312,000; Marakay Rogers, Green Party candidate for Pennsylvania Attorney General; Jocelyn Porter Project (Christine Volk), who sang and played the guitar; Mike Marsico, a gay man from Philadelphia and a representative from the Kerry campaign; Betsy Smith, Libertarian candidate for US Senate; Mark Hoovler and Marcha Vecchio from PFLAG Erie, who presented community member Jeff Hill with a certificate of recognition and Chris Young of America Coming Together for Victory. PFLAG was kind enough to donate 5 gift baskets for a drawing. They collected these from various donors.
Organizations and vendors with tables set up included: the Crime Victim Center, Erie County Department of Health, SHOUT Outreach, Identity (GLBT group at Edinboro University), the Kerry/Edwards Campaign and Mad Mike's Tattoo and Piercing.
We would like to thank the Village for hosting the event. They had a delightful jazz brunch. The Village Jazz Brunches were on hiatus for the summer, but they are now back to be the 2nd Sunday of the month, beginning on November 13. There is a separate email list for that.
There was a voter registration drive taking place at Erie gay bars since early September. About 70 people were registered to vote or changed their registration info.
Again, we want to stress how important it is for our community to vote on November 2! That was one of the main motivating reasons for the March/Rally.
There was a great turnout by area students. Allegheny College in Meadville, SUNY-Fredonia, Trigon/Penn State Behrend, and Identity/Edinboro University were represented. We also collected 7 pounds of food for the Erie Food Bank.
Thanks go out to Brian Bohrer for contacting students, Bob for working tables, Deb Spilko and Brian Skelly for taking photos, Maureen Koseff and Lynne Rhodes for admission tables, Leslie, Tommy, Jamie and the staff of the Village for hosting/numerous help, and Jayne May for PFLAG prize baskets.
Photos
Also view photos here.
Powered by
flickr embed
.
---