Pride Picnic 2004 Recap
by Michael Mahler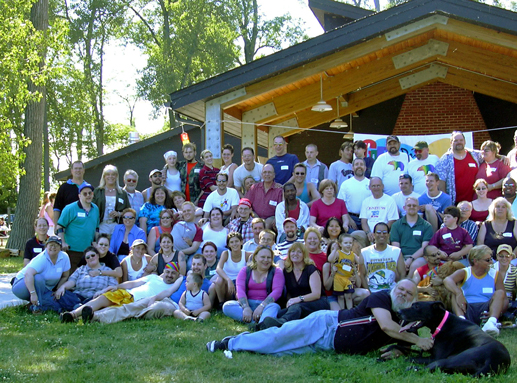 Huge thanks to everyone who made the 2004 Erie Pride Picnic such a wonderful success! We had well over 300 people attend, a new record over last year's record of 270. There was a wide diversity of members and friends of the community represented. Volunteer Dave Amy remarked that Mother Nature had to be a lesbian as in the 12 years we have been having picnics, we have always had clear and beautiful weather.
There were so many people who made important contributions to the picnic's success. Thanks go out to our donors: Coca Cola of Erie, Wegman's (Peach Street); Papermoon restaurant, Wanda Phillips of Boat Master Detailing, the Zone Dance Club and the Village Supper Club. Please support these businesses who support us!
Also huge thanks go to staff/volunteers Keith and Deidre for working the registration table; Brian and Larry for cooking food; Dave Amy for cooking and kitchen organizing; Jeff Hill for the nifty Erie PA GLBT banner; James von Loewe for the equally nifty Erie Gay News banner; EGN graphics designer MAL for designing the banners; Dok and Jamie for security and set up; my mother, Anne Bretz, for embroidering the ultra nifty staff T-Shirts, the door prize shirt, and that whole giving birth/raising me thing; Deb Spilko for taking photos and working on documenting accessibility info; SPARC, PFLAG, Americans Coming Together, Hispanic American Council, Erie County Department of Health, and Bob for the John Kerry campaign for putting together the info tables; Jack Kressley for running to the store to get plastic ware when we ran out; and a bonus thanks to Brian, Larry, Dave Amy, Keith and etc. for helping to organize. I am almost certainly forgetting to thank someone, but with so many terrific folks and organizations, that is almost as certain to happen as it is that we would have such a wonderful day.
For those who you who like to mark your calendars very far in advance, the 2005 Pride Picnic should be Saturday, June 11 from 1 PM to 6 PM (notice that we will start an hour earlier next year) at the Rotary Pavilion. For more info about the Pride Erie Picnic, call Michael Mahler at (814) 456-9833 or email info@eriegaynews.com.
There was a collection of nonperishable items for the Second Harvest Food Bank of NW PA. We collected 142 pounds for the food bank. Go team!
We are also happy to report that almost 50people showed up for the first ever Family Pride Picnic at Conneaut Lake Park, Pavilion 5A the next day, Sunday, June 13. PFLAG and the Northwest Rural AIDS Alliance each had a table there. The organizers were very happy with the response. A committee has been set up to plan next year's picnic. For more info, contact Allan at snowplace2@alltel.net.
Photos
Also view photos here.
Powered by
flickr embed
.
---