Pride Erie Picnic 2002 a huge success!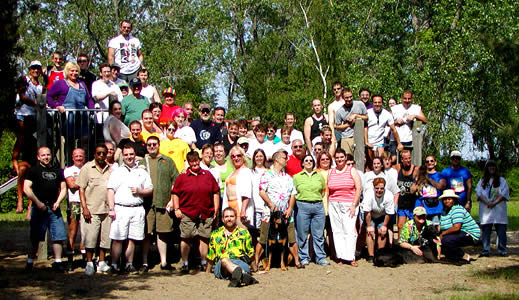 by Michael Mahler, 6/13/02
Many thanks go out to everyone who made the 2002 Pride Picnic a phenomenal success! There were approximately 220 people who came, which is an all time record. (There were about 125-150 people at last year's Picnic.) As in years past, people came from Erie, the tristate area and farther. Folks came with their partners, children and family members. We also had a very diverse representation of the GLBT community and our allies.
As you can imagine, credit for the success goes out to lots of folks who pitched in! We would like to thank The Zone Dance Club for hamburgers, hotdogs and cheese; The Village Supper Club for bottled water, ice, and the loan of the rainbow flag; Wegmans for a donation towards the food; Coca Cola, for once again donating beverages; and Larese Floral Designs and PFLAG Erie/Crawford County for financial donations.
Among the people who deserve to be thanked are Dave Amy (shopping, cooking, set up, cleanup); Craig (cooking/setup), Rashima (our "dot mistress," who was very diligent about seeing that everyone got a sticker so we could better know how many people attended), Tim from Ohio (cleanup), Jeff Hill (cooking, setup, etc), Bob Howden (cleanup), Abbey Atkinson, Jaimi Bonczar and Trigon (Abbey & Jaimi made the lovely new permanent signs that helped people find their way, and Trigon funded the signs), Stephen (coolers, clean up, etc), Dave Martin (publicity), Eric Hull (publicity, youth outreach),Mike Miller (display signs at the site, set up, clean up and much else), Brian Skelly (hosting meetings, maps, etc), Marcha Vecchio, Mark Hoovler, Rick Blair, Preston Blood, among others for the marketing campaign (passed out cards, advertised on line, got announcements to bars, etc). Thanks to the Erie County Health Department for having safer sex materials to pass out for later use.
We were also very pleased that some legislators were able to stop by or send a representative. Big thanks to County Councilmember Joy Greco for stopping by, also to Jeff Gault, who stopped by as a representative from Mayor Rick Filippi's office and to State Assemblyperson Linda Bebko Jones, who sent a Legislative Acknowledgement of the 10th Annual Pride Picnic.
Both WJET TV 24 and WICU TV 12 sent reporters to provide coverage of the Picnic, and showed our community having a pleasant day together.
There are doubtless many other people who we're missing to thank, for which we apologize. I personally believe that the major reason for the increase in attendance at this year's Picnic is because so many people handed out cards, talked to friends, and generally pitched in. When we all work together, nifty things happen!
For those who like to plan ahead, the Pride Erie Picnics are generally the second Saturday in June. Therefore, next year's Picnic should be Saturday, June 14, 2003.
Photos
Also view photos here.
Powered by
flickr embed
.
---