Erie's Second Pride Rally 10/9/99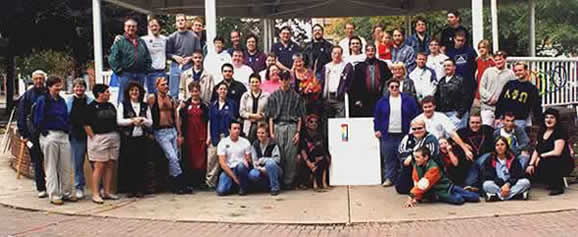 by Michael Mahler
About 150 people gathered on Saturday, October 9 for Erie's second Pride Rally. The event opened with an inclusive prayer by Rev. Terry Kime of the Unitarian-Universalist Congregation of Erie. A color photo of Rev. Kime was featured in the Erie Times News article on the front page of the local section the next day. Other speakers included Robin Green of Parents and Friends of Lesbians and Gays (PFLAG) Erie; Dr. Sal Parco of Citizens Against Racism in Erie (CARE); Gary Horton, speaking on behalf of Mayor Joyce Savocchio; Dan Hawes of the National Gay and Lesbian Task Force (NGLTF), who flew up from Washington DC; and Bob Cogan, of the American Civil Liberties Union (ACLU) Erie Chapter. There were more performers this year than last year. HAG Theater of Buffalo presented a scene from a one woman show "The Second Coming of Joan of Arc", local musical favorites 2 Girls Alone and Chris Miller performed, and Clumsi Clemsi, Bobbi B and Sharon Sharalike presented "Bosom Buddies", a drag/clown performance. We also had our traditional family portrait!
Kudos goes to this year's organizer, Helen Streett, for putting together a fabulous event. The weather ended up being fine, but thanks go out to Scott McClelland and the Roadhouse Theatre for the extremely generous offer of a backup site in case of rain. Special thanks also to jeff Hill for hosting Dan Hawes at his home, and for various errands Jeff took care of at the last minute. Thanks also to Abbey Conley for providing transportation. A big thanks to Greg Knowles for providing and managing the PA system, and to Dave and Brian for ordering the plaque awarded to me & Micheal, which was a total surprise to us! (Thanks also to everyone who contributed!) All three local network affiliates had camera news crews there, as well as the Erie Times News. Many different groups had informational tables and displays, including Womynspace, the area chapter of the National Organization of Women (NOW), Americans United for the Separation of Church and State, More Light Presbyterians, Menspace, Trigon (Penn State, Behrend GLBT group), who also had a bake sale, Mercyhurst College Gay Straight Alliance, and the Erie Chapter of ACLU.
Thanks also to Jeremy Snyder & Season, for face-painting, UU of Erie for loaning the podium, chairs and tables, and to all who bought 50/50 tickets or donated cash, especially Martin Swalboski, everyone who helped with set up and clean up, and, most of all, we would like to thank the people who attended this year's Pride Rally and supported our community.
PS by Helen Streett: Again, special thanks to MIKE & MIKE for all their support, guidance and commitment to our community, and for the surprise bouquet of flowers given to me! Thanks to all who signed the card & contributed for the flowers! I miss the Erie GLBT folks!
Photos
Also view photos here.
Powered by
flickr embed
.
---