1998 Pride Erie Picnic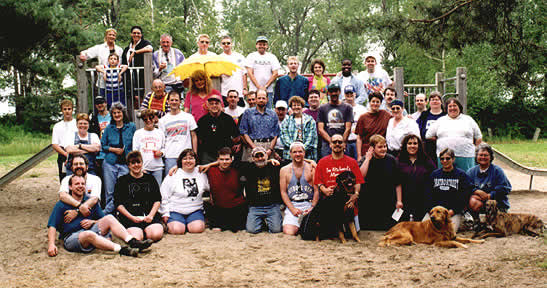 This Year's Family Portrait of Erie's LesBiGay Community and its supporters was taken at the Pride Erie Picnic at Presque Isle's Beach 11 Saturday, June 13th. There was also a Family Portrait taken in 1997 (see article) and also one that was buried in the Erie Bicentennial Time Capsule in 1995. (See article).
The people in this year's picture are:
Front Row 1. Michael Kenton Mahler (holding #2) 2. Micheal A Miller 3. Abby Conley 4. Amy Terrizzi 5. Jeremy Snyder 6. Paul Grubbs 7. Roy Whetstine 8. Jerry McCumber (with his dog, Katey) 9. Tina Smith 10. Amy 11. Mary Belding and her golden retriever, John Henry. 12. Joyce Kren with her greyhound, Nikki.
Second Row 1. Laurie Tapper 2. Deb Spilko 3. Marilyn Borawski 4. Dave Mulholland 5. Larry Sawdy 6. Randy Rutsky 7. Elaine Hill 8. Jeff (with baseball cap) 9. Georgia Carpenter 10. Helen 11. Nancy Rickeard 12. Robin.
Third Row 1. Allen Hess 2. Russel Balles 3. Fred May 4. Melodie Warner (with umbrella) 5. Ross 6. JM 7. Bob 8. Rick Blair 9. Scott 10. John Ewasko 11. Frank Tomecek.
Fourth Row 1. Roxanne Mix 2. Alison Rummel 3. Dan Conley 4. Craig 5.Paul Flower 6. Dave Amy 7. Brian/"Rock Hollywood" 8. Tajha 9. Troy Summerville 10. Brian Skelly.
1998 Pride Picnic thank you's & report
by Michael Mahler
We had a great turnout this year for the annual Pride Picnic at Presque Isle, despite some potentially unfriendly looking clouds.
There was a map of the city of Erie and the surrounding areas that folks could put pins into to show where they lived. Brian Skelly and Dave Amy made the map and there were many pins. The map will be back at the Pride Rally. We also had even more people than last year pose for the Family Portrait! People came from Cleveland, Ashtabula, Allentown and Albany. We are always glad to see both returning friends and new faces!
As mentioned previously, there was a contest to design the new logo for the group that is now sponsoring the picnic, Erie Community Pride Organization (ECPO). The 7 anonymous entries were voted for by folks at the picnic, and the winning entry was submitted by Micheal Miller. Micheal chose to donate the $200 cash prize to ECPO and the dinner for 4 to the next runner up. Both of these prizes were donated by Tapas Bodega.
The new logo was put onto a banner that people from Erie marched behind at the Cleveland Pride Parade.
We'd also like to thank the many people whose generous time and effort made it possible: Tops Friendly Market, 1520 W 26th and Wegmans, 6143 Peach St, for donating groceries, Tapas Bodega for generous donation of $200 and dinner for 4 as a prize for the ECPO logo contest, Clark Kuebler and Uniflow Manufacturing for donating ice, Helen, for making the flyers and helping with cleaning; Dave Mulholland for organizing and setup; Elaine Hill for organizing and bringing all kinds of neat stuff; Amy for helping with setup, Brian Skelly and Dave Amy for making the cool map and for cooking; Roy and Jeff for also cooking; Abby Conley for acting as liaison with the Park Rangers; Nancy Rickeard, Robin Green, Laurie Tapper, and Deb for help with setup and more, Micheal for making signs and taking the Family Portrait (which is on the web site and will appear in next month's print edition), all of the logo contest entrants for sharing their talents and everyone who attended! We are certainly missing people and tasks here, but thanks to everyone who made the day special!
We should also thank the many people who made the 2nd Annual Interfaith Pride Service a success: Rev. Terry Kime and the Unitarian-Universalist Congregation of Erie for continuing to be such a wonderfully welcoming and friendly space for people to celebrate their spirituality, 2 Girls Alone, Sue Beats and also Jan for providing wonderful live music, Elaine Hill for organizing and presenting the stoles project, Sr. Mary Louise St. John for a beautiful benediction, Sharon and the Coven of Brighidshaven for the neat idea of the ribbon tree and all who spoke and worshipped.
Looking forward to seeing everyone at the Pride Rally in October!
Picnic Incident
by the Pride Picnic Committee
Just as this year's Pride Picnic was starting to warm up, there was an incident that marred the rest of the event.
After a fence post at the picnic site was damaged, park rangers investigated an individual attending the picnic regarding alleged destruction of park property and alcohol use. After repeatedly provoking the rangers, the individual was taken into custody.
Okay, here it is again: It is state law that alcoholic beverages are not permitted at state parks like Presque Isle. We have always included this information in every press release and article for the past six years. It is posted on the signs at the entrance to the park.
Because of someone's inability to behave responsibility at the picnic, everyone had to observe an unpleasant scene and have a significant dent put in their day. The individual even yelled inflammatory and obscene remarks at the park rangers, which doesn't exactly build good good relationships with the park. In the dealings we had with the rangers, they were courteous and polite. The individual involved in this incident repeatedly accused the rangers of harassing him because he was gay, but there seems to be no evidence of harassment in this case.
Because the state prohibits alcohol at the peninsula, the Pride Committee must abide by that rule in its agreement to use the peninsula. People who bring alcohol into the picnic really put the Pride Committee into a difficult spot. Our alternatives are to either ignore behavior that can get us in trouble (and maybe imperil getting the site for future picnics), have the picnic ruined by the site of park rangers prosecuting violators, or come down on people and police the event ourselves.
Many people give generously of their time, effort and money to make the picnic a nice experience for everyone. In addition to setting up, cooking food, cleaning up, keeping a lookout for outside troublemakers, and doing countless other tasks, these volunteers are not equipped to handle the many problems that can come with alcohol consumption-checking for underage drinking, dealing with drunken behavior that gets out of hand, etc.-or should they be expected to.
Please do not take the message of this article to be an attack on people who drink alcohol. It certainly is not. In fact, some people enjoy going to the alcohol-free picnic during the day, and then heading for the bars later that night. While writing this article, we asked for opinions on policies towards alcohol from people on our email list. No one who responded considered events where the focus was centered on alcohol to be very important.
The Pride Picnic has always been a low-key, friendly event that people people feel comfortable bringing their parents, friends, and kids to. It is low on attitude and emphasizes conversation, community, and mellow fun. Based on the responses we've heard, that is the sort of community that the community wants, and that is the sort of picnic that that the Pride Committee hopes to pout on in future years with the cooperation of the community and the Park. If some people want a gay picnic with alcohol, DJ music, etc - then someone should organize one.
Everyone is welcome to attend the Picnic, as long as you're into the spirit of the thing. Laugh, talk, eat, play games, swim, bike, hike, lay on the beach. All we ask is that you respect the rules we have agreed to. If that sounds like a good time, then we hope to see you next year!
Photos
Also view photos here.
Powered by
flickr embed
.
---